Sign Up for Our Newsletter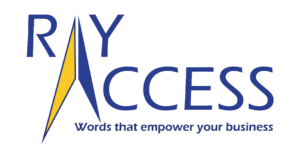 Ray Access is committed to educating everyone who uses the internet. That's the purpose of our newsletter: a means to teach online writing best practices and media awareness.
When you search online, you're looking for information or answers to questions. It's frustrating when you find a promising website that doesn't deliver. Your company's website faces the same challenges. Great website content keeps visitors on your site longer, and statistics show that the longer a visitor stays on your site, the more likely he'll become a customer. You can hire Ray Access to write your content, sure, but you can also do it yourself!
Get writing tips, special offers and business advice delivered right to your inbox by subscribing to our monthly newsletter. Ray Access gives you value that you can use for your business every month. You can unsubscribe at any time, but sign up now to receive our free eBook, How to Write for the Web, which provides useful tips and tricks that you can put to use immediately.