Networking Advice for Business Owners
Networking is one of the most powerful means at your disposal to market and grow your small company. Yet so many business people fear the crowded rooms. But be assured that not everyone sipping wine and trading business cards is comfortable. Like you, many had to swallow their fears, take a deep breath and dive forward to press the flesh. The alternative, they know, is sitting in silence in a dark corner as all their hard work slowly comes to naught.
The bottom line is that it's not about who you know, but who knows you. To earn a reputation in your field and in your market, you have to be visible. People have to know your name and be able to put a face to it. Business people drop names as part of their normal, everyday pitch, and they only drop names of experts they've met in person or heard a great deal about. To be that person and get that referral, you've got to hit the networking circuit in your area and within your industry.
Succeed at Networking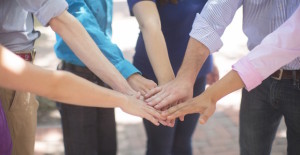 To help you make the most out of those after-hour mixers, breakfast pow-wows and open house handshakes, we've put together a list of tips. Try them — and tell others where you heard about them — because the writers and editors at Ray Access know the power of networking:
Compliment people. Remember that business men and women are just people. Who doesn't appreciate a compliment about a pair of shoes, a jacket, tie or handbag? A compliment is a great way to start a conversation — and perhaps a new relationship.
Approach loners. You can find them standing in the corner or nursing a drink at the bar. Loners sometimes can feel less threatening than approaching a pack of pristine suits who are standing in a circle laughing at an in-joke. Instead, commiserate with the fellow loner about how much you deplore these events to find common ground.
Ask questions. As former journalists, we always resort to the time-honored trick of getting people to talk about themselves as a way to open up a conversation. Even inane questions like: "What do you do?" or "How about them Red Sox?" can serve as an opener leading to and interesting (and profitable) conversation. You never know.
Move around. One mistake networking newbies often make is to stick with one group of people they've become comfortable with. Once you make a quick connection, trade cards and leave an impression, move along. The purpose of networking is to talk to as many people as possible in the time allotted. Get busy!
Go alone. Business people who move in packs don't take the chance to break away and meet someone new. A networking event is not the place to socialize with people you already know, even if it's nice to acknowledge each other. The primary goal is to see and be seen by all the people you don't know.
Leave the sale for later. Pushy business people who only talk about themselves often end up alone. Salespeople who try to sell their services to everyone they meet tend to earn negative reputations. In fact, if you rarely talk about yourself, you'll be remembered because you listened. Wouldn't you rather be remembered positively and not with a knowing eye roll?
So don't fear. You too have what it takes to get out there and develop new relationships. All it takes is a deep breath and a stack of business cards.